Every year we invite all Umbracians to participate in our big three-day long Umbraco conference, Codegarden. It's a bit like a massive happy family reunion combined with a big welcome party for all the newbies. It's one to experience, and definitely one to remember!
Codegarden is also the only Umbraco conference hosted by Umbraco HQ, where you'll hear the biggest upcoming news about Umbraco and the industry in general - directly from the people who are working on it!
What, where, when? 
Codegarden is an annual Umbraco developer conference hosted by Umbraco HQ. It is the biggest Umbraco conference in the world and every year it attracts hundreds of Umbraco developers, editors, tech and business minded people who meet to participate in quality sessions about Umbraco and all things digital. Read more about Codegarden
In previous years it's been held in different places around the world. From 2016-2019 Codegarden has been held in Odense - not only the third biggest city of Denmark but also home to Umbraco HQ. In 2021, Codegarden will be held virtually.
Codegarden happens every year at the end of spring/ beginning of summer.  Codegarden 2021 will be on 9-11 June 2021.
What happens at Codegarden?
Codegarden lasts for 3 days during which guests from all over the world participate in tech and business sessions galore. The sessions vary from projects built on Umbraco CMS, things you can do with Umbraco or how Umbraco can help an agency grow its business.
Besides the sessions, Codegarden is also known for hosting the Umbraco Awards and the infamous Umbraco Bingo. This year, there will also be the Umbraco Package Awards.
At the Umbraco Awards ceremony, the very best of Umbraco projects developed over the past year are awarded. Meanwhile, Umbraco Bingo is a much less "formal" event during which Codegarden attendees can play a rather non-traditional bingo game and win quirky prizes.
As the saying goes -  "what happens at Bingo, stays at Bingo" -  so it's something that just has to be experienced.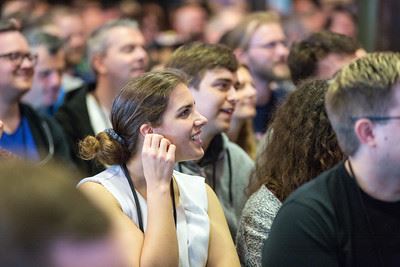 What happened to Codegarden 2020?
...It's hard for us to talk about 😞