The Umbraco community is a friendly place and it is growing. We know that so many of you take our values, our spirit and our ideas out into the wider tech world and to make that easier for you, we created the Champions initiative. A champion is someone who has decided that they want to go out into the world and advocate for Umbraco and grow the community but they need some help.
After speaking to you, and listening to what you need, we have decided to provide support for that to happen. Firstly, all the resources you might need to take with you on your talk, your workshop or your visit to a meetup. But it doesn't stop there. We also wish to help by offering financial support. In an ideal world, events would be accessible to all but sometimes, we wish we could go and advocate for this community without incurring a cost to ourselves. That's where we step in. Let us know what you need and we will endeavour to make it happen.
Finally, all of our champions will have the opportunity to work with eachother in a dedicated channel in our HQ Slack. We all work best in teams of passionate people so we want to give you a space to collaborate.
When can I become a Champion?
Right away! You can submit an idea and if we agree to it, we will use our champion fund to cover some or all of the costs, depending on your plan and we'll work together to get you all the info you might need to take with you on your adventures. 
How do I become a Champion?
Fill in this form and you will be able to submit your name, your idea. If you're successful, we will feature a write up of your story in our blog on the community site too. We can't wait to hear from you.
Who is an Umbraco Champion?
Anyone! But the folks we are looking for might see themselves in the bullet points below.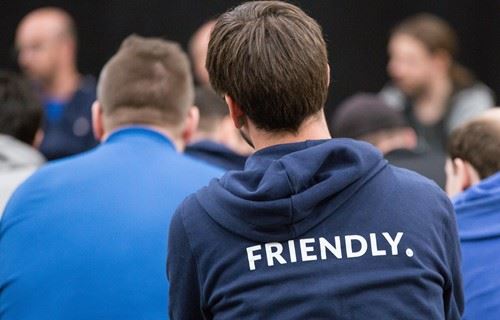 You're someone who loves the open source experience. You can lose hours when you're getting stuck into a new idea and you love when you can do that in good company too. 
You know the Umbraco ecosystem and you're keen to share some of that experience with those who are new. You might be a specialist with some super cool, niche technical knowledge or perhaps you've tried a lot of different things in a lot of different ways. Either way, there's learnings you'd love to share.
There is no shortage of great ideas in the Umbraco community so here's where it gets interesting. What haven't we tried? Where do you want to go to meet new Umbracians? And how do you want to engage with them? Creativity is key here. The bolder the idea, the better.
You're a people person. You get real joy from working with others and that moment where they just 'get it' is what you are always delighted to witness. You are keen to see this community grow in places we've never been and for people who wouldn't always have the chance to meet us.