What is the U.S. Summit? 
The Umbraco U.S. Summit is the biggest Umbraco event in the U.S. hosted by Umbraco HQ. The event brings together web developers, as well as business professionals from all over the country for a 2-day conference with sessions, carefully picked to inspire, teach, and update you on the latest trends in web tech as well as keep you updated on the latest items on the Umbraco product and business roadmap. 
Do you have to work with Umbraco CMS to join? If you already work with Umbraco, we highly encourage you to attend! But if you don't (yet), this event is still for you. In fact, it's a great opportunity for you who might be considering a new CMS solution and want to know what Umbraco can do for you. Everyone curious is welcome and we promise you'll leave wiser - and maybe even impressed! 
A 2-Day, 3-Event Summit
For the 2023 Umbraco U.S. Summit, we have split the conference up into 3 events across 2 days. This way, you can create your own conference experience based on your interest. 
The Community event is for web developers, the Business event is for everyone working with digital business and this event also has a half-day online option. The Partner event is for existing Umbraco Partners only.
Which event(s) are you doing for? Learn more about the 3 events below, or visit the Umbraco U.S. Summit website, to get the full overview of the events. 
Community
in-person event
A day of technical deep dives, learning, building, and togetherness with the overall theme: Collaboration 
Whether you're a developer already part of the Umbraco Community or want to join or simply want to expand your knowledge on open-source development, this event is for you!

The event will take place at the Charlotte Convention Center on Monday, October 2, 2023.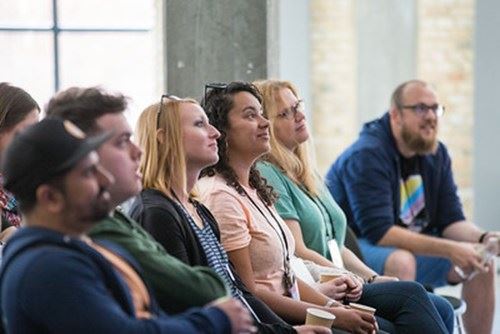 Business 
in-person or half-day online
A day of inspiring sessions and discussions about Digital Transformation and Future-proofing 
Open to all!

Business owners and professionals working with marketing, Cloud, digital development, e-commerce, DXP platforms, and/or other digital transformations. 
The event will take place at the NASCAR Hall of Fame in Charlotte, North Carolina, Tuesday, October 3, 2023.


Partners in-person and by invite only
The latest updates directly from Umbraco HQ and an afternoon of can't-miss networking 
Exclusively for our partners!

Don't miss out on this afternoon filled with valuable networking opportunities and the latest updates directly from the Umbraco U.S. VP of Sales, CEO, and CTO as well as your Partner Manager. 
Join us on Monday, October 2, 2023, at the Charlotte Convention Center.