Update
As 'The Unicore Project' - that is, Umbraco 9 - has been launched, the Unicore Team has been disbanded. H5YR to the fantastic efforts of the Unicore Team! 
Focus areas
Backend architecture
Transition to .Net Core
Community involvement
Representing the Umbraco developer experience.
Goals
Umbraco runs on .NET Core, faster than HQ could get there alone
Involve the next level of contributors in the project
Keep the upgrade as easy as we can by minimizing breaking changes
Listen to the voice of the community during the transition
Main activities
Stand-ups every other week to share knowledge
Guide community on  up-for-grabs tasks
Implement more complex tasks towards the goal
Support (Online / code camp) hackathons when we have a lot of open up-for-grabs tasks
Engage the community by communicating about the project (via twitter #projectunicore, at conferences)
Engage with the other community teams
Prepare tasks for community involvement 
Let's meet the team!
Current team members:
Previous team members:
Yvo Linssen (Netherlands)
Andy Butland (Italy) - now steward of the Package team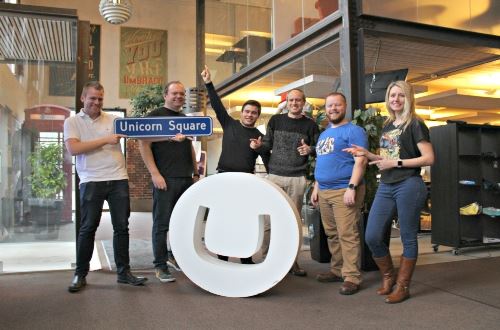 Communication
The team uses a dedicated Slack channel to communicate and to comment and follow-up on tasks. We use a shared Google Docs folder to collaborate on research and documentation
In-person meetings are scheduled twice a year: at the team kickoff in January and at Codegarden in the Spring
There is also external communication by the team as:
Unicore section in Product update blog post 
Separate blog updates when big announcements, like beta, RC,...
Talks at Umbraco conferences
Team Structure
The team is ideally organized as a group of no more than 6 members:
1 HQ employee - Steward
3-5 community volunteers
With a team lead, Steward, in the centre, the team is organized around fulfilling different roles according to the skillset and preferences of each. The Steward's role is focused on:
managing the team, 
providing the necessary support to the different members, 
and coordinating with the HQ dev team and the stewards of the other community teams.
Getting in touch with the Team
You can get in touch with the team over member's individual Twitter and Github accounts
Joining the Team
An online application will be open once a year, typically in January. 
Ad hoc appointments can be made in case a team member chooses to step down.
Terms of agreement
All Community Team members must abide by the Community Teams Agreement.


HQ support and role
Ensure transparency and visibility
Support where relevant
Provide financial support for travel and accommodations to participate in meetings and events